I don't know anything about you. Except that you're busy, have little time to cook, but want to eat healthy and stay fit. Superfoods and recipes like Chia Seed Pudding are your savior.
Maybe you're a commuter who rushes to make the train or bus to work. Or an athlete who works out every day. A single guy or gal, reluctant to cook elaborate meals. A working couple or exhausted parent who wants to spend as little time as possible in the kitchen. Or a student.
It doesn't matter. Superfoods are for you. And Chia Seed Pudding is just one of many mouthwatering superfood recipes that will meet your needs.
Trust me, to be always on the go, you'll need all the nutritional support and guidance you can get. And while there are many superfood recipes that can help you quickly and easily prepare delicious, healthy meals, those with chia seeds are special.
Superfood Chia Pudding
Maybe you've heard of chia seed pudding but haven't tried making it because you thought it takes too much time and effort to prepare. After all, it's widely believed that chia seeds need to be soaked for hours, even overnight, before you can cook it.
But that's not true. These little energy-loaded superfood seeds can suck up water and other liquids almost instantly. You'll see chia seeds begin to swell almost immediately when you soak them in water. Ten minutes is often enough to turn them soft and sticky.
Ingredients for Chia Seed Pudding
Four tablespoons of chia seeds
1 cup of berries (you can have blueberries, strawberries or raspberries)
Two teaspoons of maple syrup or honey
Two teaspoons of cacao powder
A teaspoon of lucuma powder or maca
Three quarters of a cup of nut milk
This is enough to prepare a chia seed pudding for two servings.
Chia Seed Pudding Preparation
Take a large bowl and add all the ingredients together. Mix them well by stirring. Keep some of the berries aside for topping up the pudding later. Stir the mixture until everything is combined nicely.
The chia seeds will soak up nut milk and become soggy shortly. In a few minutes, your chia seed pudding will set nicely. You can then top it using the berries and voila! Your superfood chia seed pudding is ready to eat.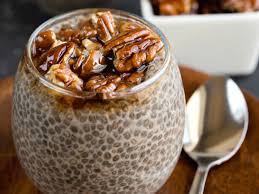 Chia Seed Porridge
While chia seed pudding makes for a nice dish to eat at any time of the day, you can also use these energy-packed superfoods for chia seed porridge. It's an ideal breakfast that, like oats, keeps your blood sugar levels steady all the way through lunch time and avoids food craving and the desire to snack in between meals.
And like chia seed pudding, the porridge is super easy and quick to prepare. Mixed with millet, it makes for a winning breakfast.
Chia Seed and Millet Porridge Ingredients
Half cup of uncooked millet
Two teaspoons of chia seeds
One third cup of coconut milk
50 grams of cashew
Ground cinnamon (half teaspoon)
Two tablespoons maple syrup or honey
Optional – berries or fresh fruit
These quantities are adequate for a breakfast that serves two.
Cooking Instructions for Chia Seed Porridge
The preparation of porridge is a little more elaborate than chia seed pudding. First heat water to a boil in a saucepan and add in the millet. Stir on low heat until the millet softens. Pour in coconut milk as the water soaks in, all the while stirring gently.
When the millet is almost cooked, add cashews and cinnamon and simmer for a few minutes. Spoon the porridge into bowls, topping it off with a teaspoon of chia seeds, honey and fruit.
It's a delicious and healthy breakfast that your family will enjoy.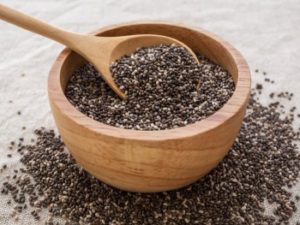 A Word About Chia Seeds
Chia seeds are among the top superfoods known, packed with nutrients and low in calories. The seeds are tiny and tasteless, which means you can add them to just about any meal and boost its health benefits.
Chia seeds were first used in Mayan and Aztec times, and the very word 'chia' means 'strength' in the Mayan language.
So enjoy your chia seed pudding – and gain strength from the superfood chia seeds.
You can get many more superfood recipes from these books on healthy living and eating in the modern world.