7 Lesser-Known Books by Indian Authors You Must Read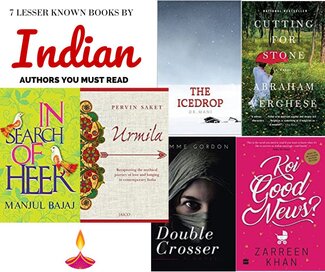 Run a search on Google for the 'best Indian novels' and you'll find extensive lists of best selling books in India.
So many that you'll quickly, easily get confused!
Here's what is interesting.
Many of these collections have the same titles on each.
It's as if every book reviewer simply tapped into the 'same old, same old' dataset of best books to read in India.
For instance, there's a really long compilation of '121 books by Indian authors' - and it includes all the books listed in '11 books by Indian authors you must read', or '10 best books to read in India', or '12 best Indian novels'.
Which still leaves you quite confused about...
What are the best books by Indian authors - whom you've probably never heard of before?
So that's what this collection is about. A carefully handpicked selection of books by Indian authors - but not the ones you'll regularly find on many, many other lists.
Among them are some great Indian novels for beginners. As well as some of the best Indian books to read for even more experienced and discerning readers. They run the gamut from fantasy fiction to literary novels, mystery thrillers to epic romances.
The one constant is that each of these books is a gem. An engaging read you'll enjoy. A story you'll want to keep coming back to over and over again. An author whose other work you'll be curious to explore further.
These truly are the best Indian novels for youngsters and for the old. Even if they are by lesser-known authors, these are books you simply must read!
Naturally, any such list will be biased. Be based on opinions and tastes. And even this one might not include your own favorites. After all, there are nearly 10,000 book publishers in India today, with over 90,000 Indian novels coming out every year!
So once you've gone through our list of the best 7 books by Indian authors - maybe even browsed through some of these must-read titles - please share your feedback and views in a comment.
Or if you feel any other title deserves to be included in this collection of Indian authors you must read, please suggest it too.
Lesser-Known Books by Indian Authors #1:
URMILA, by Pervin Saket
Loosely based on Lakshman's wife in the legendary Ramayana, Pervin Saket's Urmila is an urban heroine of middle-class origin who marries into wealth.
Saddled with the care of her ageing in-laws, yearning for her husband's affection, Urmila lives an intriguing up-and-down drama. People protest her art. Disrupt weddings. An accident draws an orphan into her life. And other interesting twists keep the tale moving forward.
Sprinkled with myth and superstition, what makes 'Urmila' standout is its characters. They are rich, multi-dimensional and colorful, bringing depth to an otherwise mundane story. Especially the ladies. Because this is a book about strong women who can take whatever life dishes them - and smile.
It's also a somewhat tragic love story, with abandonment and rejection. Yet Urmila survives. And you rejoice in her wins. Pervin Saket has crafted a lovely story you'll relish and savor as you get to meet and know more about this fictional family.
Read a full Urmila book review here.
Lesser-Known Books by Indian Authors #2:
THE HENNA ARTIST, by Alka Joshi
In a book that shatters the mould of what an 'Indian author' writes and sounds like, Alka Joshi presents a catchy narrative that will provoke curiosity and wonder in any reader.
Built around Lakshmi Shastri, the henna artist, this story is vividly portrayed and beautifully descriptive. You'll love word pictures like this one: "It was his eyes I found the most appealing; a rich brown with the striations of a glass marble, alive with curiosity, ready to be amused."
I bet you can just imagine looking into them!
The story itself is somewhat deep and complex, delving into thorny subjects like ancestry, and being childless without an heir to a vast fortune or cultural inheritance. Another theme involves suffering, and recovery from its deep pain... thanks to the care of our protagonist who practices her native and hereditary art.
Read a full The Henna Artist book review here.
Lesser-Known Books by Indian Authors #3
THE ICEDROP, by Dr.Mani
What's not to like about a novel centered around a sentient water drop - and that extends the metaphor to gain unique perspectives into life itself.
Adrian Icedrop stayed trapped inside a glacier for aeons. Suddenly released, he joyously sets off on a voyage to live out his dream and fulfil his destiny. This novel traces the icedrop's adventures as he grows in wisdom, self-awareness and insight.
Finally arrived at his destination in the depths of an ocean, he hears a message that will transform him... and maybe will also stun you as a reader.
Based on eternal and universal principles, The Icedrop is a literary tour de force that follows in the footsteps of Richard Bach's iconic 'Jonathan Livingston Seagull'. A story that is an enjoyable and easy read, yet conveys powerful messages in a simple but memorable style.
Every reader will relate to and enjoy 'The Icedrop' and each of the characters that meet and engage with our hero on his voyage. You'll even imagine yourself travelling along with Adrian, to discover your own true potential - just like him.
Read a full The Icedrop book review here.
Lesser-Known Books by Indian Authors #4
IN SEARCH OF HEER, by Manjul Bajaj
A delightful historical romance that will leave you breathless and craving more, the legend of Heer is full of twists and turns that make for an engaging read. Oh, and it's also deeply satisfying. This is a book every young woman can read for inspiration, and anyone can read for a deeply satisfying experience.
Heer battles against an intolerant society with soul-stirring determination that transcends her circumstances. And joining her in this journey is enjoyable on so many levels.
In Manjul's skilful telling, this popular myth takes on a special flavor. The writing is poetic, inspirational and heartwarming. The themes of romance and rousing feminism are elegantly woven through the tale. And even birds or animals are roped in to help tell the story of a deep if ill-fated love.
Best of all, 'In Search of Heer' is a book about connectedness among all living things. And the magic of music as expressed in the haunting, soulful tunes flowing from our hero's flute. This is a fast-paced romantic story that doesn't disappoint.
Read a full In Search of Heer book review here.
Whew! Time for a short break?
Hope you're enjoying this carefully curated collection of best books by Indian authors. These may not (yet!) be the best selling books in India. And still, for many good reasons, these are among the books by Indian authors you must read.
Who knows, with the right combination of luck and visibility, any of these could become the best Indian novels of this year.
So let's get on with the rest of this list of... best books to read in India.
Lesser-Known Books by Indian Authors #5
DOUBLE CROSSER, by Emme Gordon
Krish Thomas, a maverick entrepreneur, builds his billion-dollar business empire from nothing. But only few knew of the demons that relentlessly drive him from within.
In dubious alliance with a corrupt political fixer, the businessman plans to steal a fortune from his own company - in order to keep a childhood promise to his dying friend. But then, a double-crosser starts exposing the secret deals.
With his business empire at stake, and his very survival threatened, Krish must choose between two agonizing options - a long-cherished dream, or the girl he secretly loves. 'Double Crosser' is a gripping tale of high drama and tense emotion. A roller-coaster adventure in big finance, rampant corruption, and shining idealism. A stark choice between friendship and love.
Emme Gordon's remarkable debut novel exposes political intrigue, greedy capitalism and fiery passion - in a world where the only way past hurdles to achieve goals is through unswerving optimism, fierce tenacity and ruthless deal making.
Read a full Double Crosser book review here.
Lesser-Known Books by Indian Authors #6
KOI GOOD NEWS, by Zarreen Khan
A laugh-out-loud funny take on a Punjabi couple's pregnancy, this book will leave you knowing more about how people feel and act when a family expects a baby.
The Deols have several conversations - some of which happen only inside Mona's or Ramit's head - making this a rather interesting style of story telling. You get to experience each event and happening from distinct perspectives.
Mona: I put his hand on my stomach and he grinned at me. It's magical! Ramit: Still can't feel a damn thing.
The story moves briskly ahead with crisp dialog, short and fast-paced scene shifts, and hardly anything irrelevant to clutter up the week-by-week account of a precious first pregnancy. Despite some over-dramatized reactions, it's clear that the entire clan is seized with the enormity of a miracle... new life.
And then, there's a fabulous cast of characters. Like Mona's nutty sister Shania, a supermodel neighbor who is also pregnant, gossiping friends, interfering family members and more. They'll make you smile or frown. And you'll be sorely tempted to ask the famous question of someone you know: "Koi Good News?"?
Read a full Koi Good News book review here.
Lesser-Known Books by Indian Authors #7
CUTTING FOR STONE, by Abraham Verghese
This 'golden oldie' is a nostalgic medical romance that's still, for some strange reason, not quite as popular as others on the list of best books by Indian authors.
'Cutting For Stone' is brilliant literary prose that is quite enjoyable for audiences of doctors as well as others. A tight storyline focused on a lengthy romantic relationship in the setting of a small town medical practice, this is a book that will take you behind the scenes and open your eyes to interesting aspects of the healing process. Any budding physician or surgeon will find much to enjoy in this lovely little novel.
There are some pithy phrases and clever use of words that intensify emotions and tauten your heartstrings. And you'll find yourself falling a little in love with the beautiful people whose story is in this book. Enjoy your experience with one of the best Indian books to read.
Read a full Cutting For Stone book review here.
So there you have it.
A meticulously hand-picked collection of Indian novels for beginners and more experienced readers alike. Among this are the best Indian novels for youngsters seeking entertainment, information or simply some motivation in difficult times.
Take a look at some (or all) of these lesser-known books by Indian authors.
Then share your thoughts and views about them... or suggest some other books written by Indian authors that you think deserve to be included in this list.